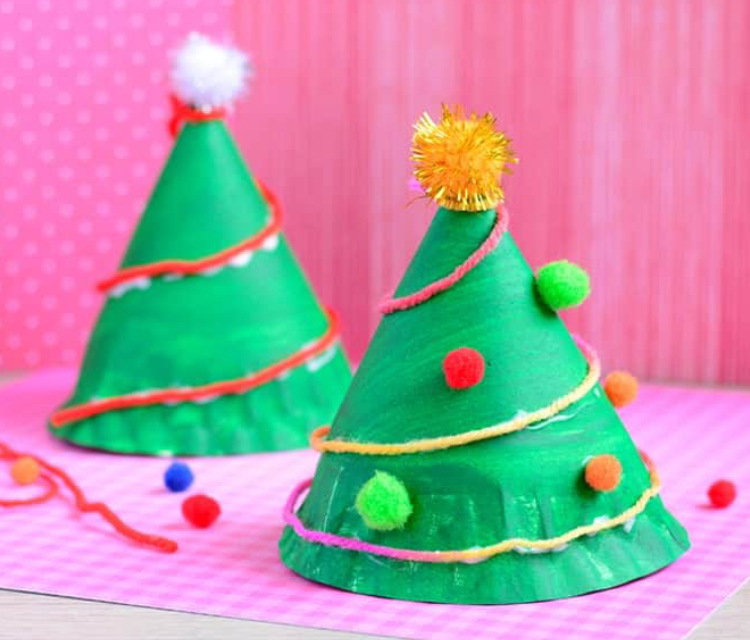 As this is holiday time, you can spend your time doing a lot of interesting crafts work. It surely, homemade crafts easily uplifts the Christmas mood. It is also the best option to save money on decorations and spend time with family. There is no need to worry if you do not know how to do any crafts for Christmas. We have shared some simple crafts that can be easily created using natural and recycled elements.
1. Lovely cupcake wrapper garland
Colorful cupcake wrappers are inexpensive and adorable. To do this craft, you need to get some wrappers with mixed patterns and designs. Flatten the liners and neatly fold in half. Arrange three folded liners and form a tree. Use glue to stick them. Take a paper star and stick it on the top. Arrange the trees to the length of yarn or twine with hot glue or staples.
2. Pasta noodle Christmas tree
Most people think that it is a difficult craft by just seeing the finished product. In reality, it is not at all a difficult one. Take a piece of cardboard and roll it as a cone. Glue the ends. Put a small drop of hot glue on the cardboard base. Stick a noodle. Keep repeating this concentrically until you touch the top. After completing, spray paint using any color you prefer. Do not forget to add the star on the top. You can use the bow tie pasta for the star.
Uncover More About : Brilliant And Interesting Crafts With Cardboard
3. Attractive DIY reindeer pot
One of the best and interesting crafting mediums is terracotta pots. There are a lot of crafts you can do with terracotta pots. Make this lovely small reindeer with a pom-pom, wiggly eyes, craft paper, and pipe cleaners. Use craft paper to cut out the ears. Stick the eyes on the pot using hot glue. To create antlers, twist and stick the pipe cleaners. Ensure to stick them with a nose and eyes. Embellish the pot with some beads and paper twine for the finishing touch.
4. Yarn and cardboard Christmas tree
One of the best crafts for Christmas is the yarn and cardboard Christmas tree. It is recommended to use such DIY Christmas decorations as it is affordable and at the same time looks unique. You can create these small Christmas trees using glue, cardboard, and yarn. First, draw and cut a modest triangle tree. Apply a thick layer of gum on the cardboard. Pick the green color yard and apply it around the tree. Let the decoration dry. Take a paper star and glue it to attach to the top of the yarn. It serves well as a hanger.
5. Christmas adornment candle holder
Small Christmas ball decorations come in a wide range of colors. They are also inexpensive and easily available. You can make a beautiful Christmas candle holder by pasting tiny balls on the foam wreath. Though the candle holder looks small, it remains perfect as a lovely tabletop centerpiece or hostess gifts.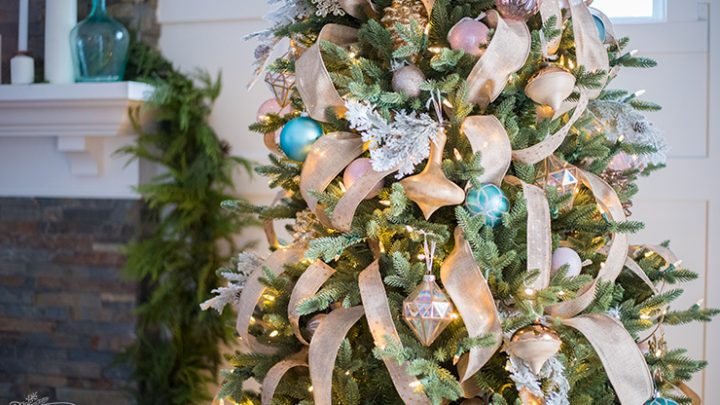 6. Ribbon tree
Cravings and crayons go well for a perfect project on a snowy day before Christmas. To make a ribbon tree, you need to use the leftover ribbon. It is a lovely rustic decoration that suits all kinds of holiday décor.
7. Pinecone centerpiece
Do you have a lot of pine cones in your yard? Well, you can utilize them to make this easy centerpiece. Collect pine cones of different sizes and place them in a large glass bowl. Add sprigs of pine and cinnamon sticks for a natural perfume. If in case you do not have pine cones in your yard, you can buy a bag of pine cones at an arts and crafts store.
8. Snow globe
One of the best seasonal crafts you can do using a glass jar is the snow globe. Collect and place artificial snow in the basement. Also, add a small tree inside. Complete the snow globe craft by adding battery functioned LED mini rope lights. It helps in adding a warm glow to the room.
9. Ornament vase centerpiece
Here is another simple way to make a centerpiece! Take a glass vase and fill it with colorful Christmas ornaments. Ensure to fill colors as per your décor. It is an inexpensive sophisticated looking centerpiece that can be placed in your house or office. It looks super simple and versatile.
10. Bottle Cap snowmen
Take a few bottle caps and paste them on a ribbon. You can use premade small craft snowflakes as they effortlessly fit inside the caps. Take pieces of paper, decorate it beautifully and stick them inside the caps. If possible, you can also paint the caps to make your snowmen.
We hope you find all these 10 Christmas crafts simple and enjoyable to do. Once you start doing, you will get a lot of ideas to make several Christmas crafts as per your creativity.