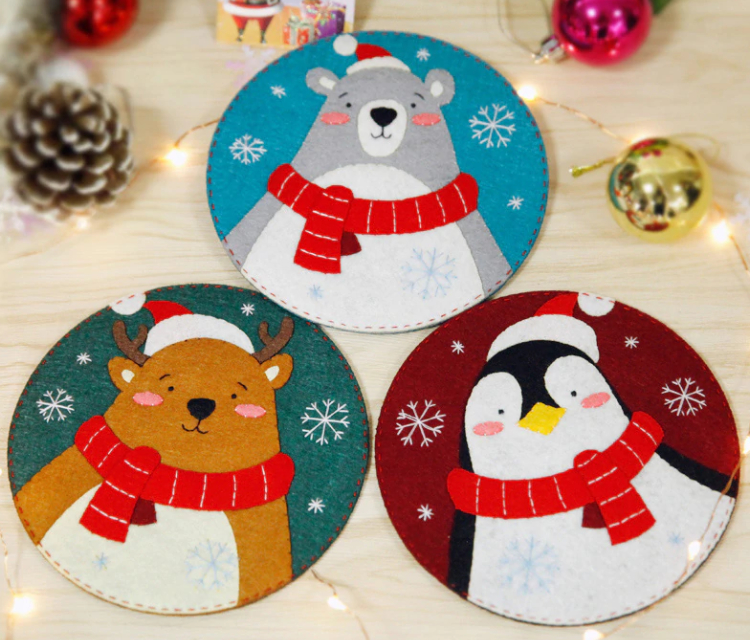 Christmas is the time around which families come together for togetherness and memories. To make these meetings creative, you could set up a productive crafts event. Anyone and everyone could participate in making decorations to adorn the walls of your home. With a few materials lying around the house and inexpensive ones from the store, you could transform your beautiful home into a Christmas celebration festive arrangement! Let's learn a few exciting crafts for christmas that could save your pocket from the expensive seasonal decorations.
Announcing The Christmas Season
Let's welcome the season of Santa and gifts with a small tribute to the big man in red. Take a few pine cones and decorate their tips to resemble snow. Get a mini Santa hat from a store or use an old sock to fold it like one. Put them together, and you have Pine Cone Santa crafts for christmas!
Terracotta Gingerbread Pots would be a brilliant idea for a gingerbread village that could be put up much before and stay for a longer time. In case you plan it only for Christmas eve or a shorter time, you could bake the gingerbread for snacking while being in the decorative element too!
Uncover More About : What Are The DIY Crafts With Buttons?
With a lot of pine cones lying around the neighbourhood, it would be good to set them up as Pine Cone Centrepiece crafts for christmas. Just set them up in a glass bowl along with cinnamon sticks to add the aroma and throw a few pine sprigs too. To add a bit of decorative element, paint over the pine cones or even apply a bit of glitter to make them stand apart. They could make for an excellent show on your living room table as well beyond just the dining table centrepiece.
If you are into sculpting, then the best one for you would be Salt Dough Ornaments crafts for christmas. You require just a few ingredients – 1 cup each of flour, salt and water, mix them into a dough. Now knead the dough until you get a uniform consistency in about five minutes. Roll them thin and cut shapes using templates or a sharp blade and your mind to guide. Bake at around 100 degrees Celsius until it gets hard and settled. Once done, you could add a few colour elements using paints and sparkles for that holiday touch.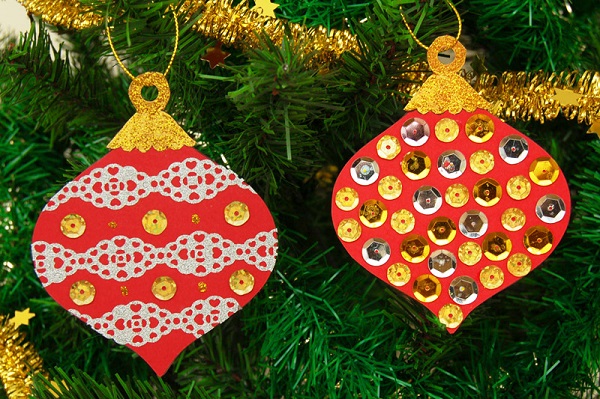 May The Spirit Of Christmas Stay Forever
Wreaths are an essential element of the festive season and adding their gist into almost all gifts seal the deal. Mason Jar Ring Wreath crafts for christmas could be miniature ones for the purpose. They could be customized with the fabric of any colour, pattern or texture and could be put up on the Christmas tree. With a pair of scissors, a few pieces of cloth, strings and infinite imagination, you could get this craft done in no time!
Expensive stuff like Evergreen Wreaths could be made at home using simple materials such as u-pins, sprigs, evergreen branches and a straw wreath form. Evergreen Wreath crafts for christmas are the best door decoration during the Christmas season as well as great housewarming gifts to go! Pick up the branches of evergreen trees and cut them into small pieces. Make a bundle along with a few sprigs and pin them on the wreath. Cover the form so that the bundles cover the pins from plain sight.
With a lot of old ribbons around, something creative could obviously be made up. A Ribbon Tree is an excellent way to begin with. Gather up all your ribbons, and assort them – colour, texture, pattern, whatever it may be just mix them up! Hot glue them or pin them up on a central stem and add other paraphernalia such as a pine cone or a star on top to make it resemble a christmas tree. This could be placed on the nightstand in the kids room for the sake of fun times.
With a small decorative pot and a floral foam, you could have beautiful Evergreen Branch Arrangement crafts for christmas. Soak the foam and put it in the pot along with a few leftover branches of evergreen. Arrange the branches at different heights to have a random yet appealing display. Be sure to keep the foam moist so that the branches don't dry out!
Let The Lights Speak Christmas
You should try a Snow Globe with an old glass jar, string lights, a small tree model and faux snow. Set everything up inside the jar and light it up using battery-powered LED lights to give the glow at corners of the room. Candles and lights make up for an aesthetic addition to your decorative theme. Converting glass jars into Magical Lanterns as crafts for christmas would be a great idea indeed. With a little bit of paint, glue and stickers, an old glass jar could be converted into a lantern by placing a lit candle inside it.