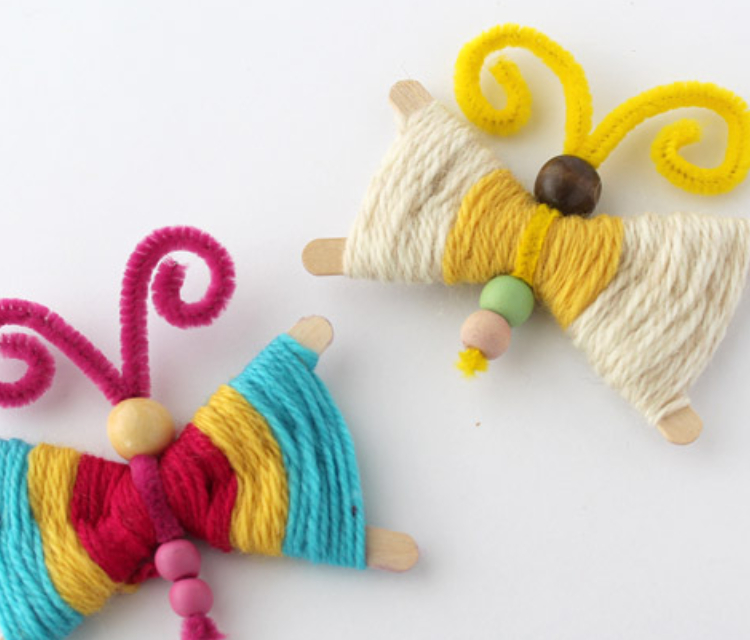 How to be inventive with a ball of wool
Don't ever underestimate that fluffy ball of wool . If you think yarn or wool is used only to knit and crochet, then you surely have not explored your creative streak. All over the world, schools teach kids plenty of crafts with wool. It is clearly a big favourite. Why? Because it's soft, harmless, versatile, easily manageable, easily available and durable.
Knitting and crocheting are complicated crafts that require a lot of nitty-gritty details that are simply too much for young school goers. There's so much more that can be created from a ball of wool. Given below are 4 ideas to use yarn to keep the young minds busy.
2 Crafts With Wool For Children
Pom-poms have been around for many years. Poms-poms can be in a single colour or multi-coloured. They are used to make cute little chicks, cats, pencil decorations, colorful mats, or anything you think is creative!
Making it: You will need a ball of wool, scissors and a thick piece of cardboard paper.
Cut the cardboard in a circle of the desired size. Cut out a smaller hole in the middle of the circle. Now , start wrapping the wool around the cardboard, taking the wool through the inner and outer circle. Cover the entire piece with wool and secure the end. Now, cut the wool from the outer circle's edge. Gently push the cardboard to one side and tie the entire bunch. Remove the cardboard. Trim away the excess wool that is sticking out. And lo! You have your pom-pom!!
Uncover More About : Some Fun, Excellent Crafts With Balloons.
This is an easy project that requires only 4 materials: wool of three different colors, glue, scissors and two pretty little buttons.
Making it: you will need three bunches of wool of different colours. Make sure they are all of the same length. Next, keep them all together and secure one end of the bunch with a string of wool. Once the bunch is secured strongly, start plaiting it. Plait it till the end and secure it again. Glue the buttons to the top and bottom end of the plait. Allow it to dry thoroughly. Your simple book mark is ready!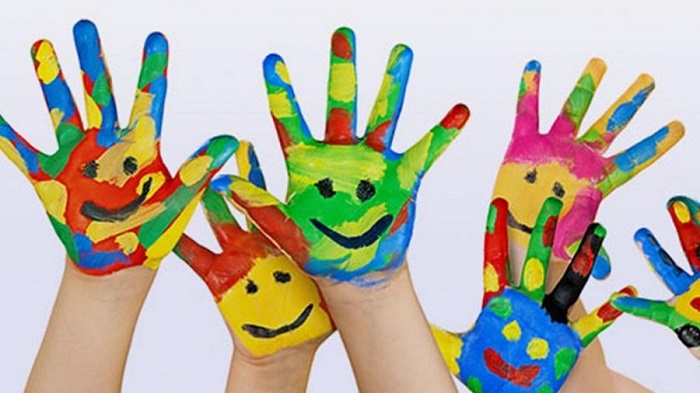 2 Messy Artworks With Wool
Children love getting their hands all colourful with paints. . There's no harm in allowing them to indulge in a little messy artwork along with proper adult supervision.
Wool printing is the easiest artwork ever! This method gives stunning results and is even being used to decorate cakes. What will you need? Two strands of wool, poster colours and art paper. That's all!
How to do it: draw a line vertically on the art paper as to divide it into half. Now dip one strand of wool into a mixture of paint and water. Squeeze off the excess paint and arrange the strand on one side of the paper, with its end hanging off the edge. You can also add another strand in a different colour. Now, fold the other half of the paper and hold it down with the palm of your hand. Pull out the wool strands slowly. Open the paper slowly and see the lovely print you've just created!
To create this beautiful and colorful summer sky, you will need : Blue art paper, a few pieces of cotton, wool strands in the colours of the rainbow and in green, and a bottle of glue and double-stick tape.
How to do it: Use a bowl to trace the arches of the rainbow. For the grass, cut the green wool and place them vertically on the double-stick tape and stick it on one end of the blue paper. Cut out wool strands that fit the length of the arches in all the colours of the rainbow. Use glue to neatly attach them. Place cotton balls above the rainbow to make them look like fluffy clouds. Trim off any excess wool and allow it to dry.
Yay! Your rainbow card is ready!