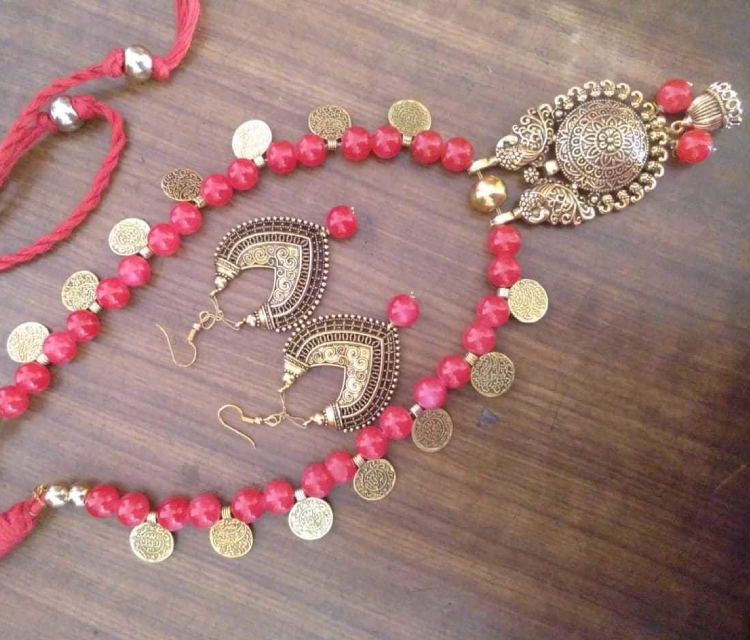 Gift Your Friends Handmade Jewellery
Gifts can enlighten our hearts. It is an art to find the right gift for your loved ones. If you have girl pals, then give these perfect hand made jewelleries. With the right tools and materials, create the perfect jewellery for your friends. You can make bangles, earrings and more with things you can gather from home and easily available in stores. To make trendy wooden earrings, you need wooden disks, binder clips, paint and liquid gilding.
Wooden disks and binder clips are easily available in stores. Use a tape to cover the top half of the disk, paint a coat of white on the lower half of the disk. Dip the painted end of the wooden disk into the liquid gilding. Drill a small hole in the top of the disk and insert a binder clip. Trendy earrings are ready. Make your friends happy with a beautiful wooden bangle. You need a flat wooden ring, paint, brushes, tape, quick dry glue, leather scraps, toothpicks, and sealant. Stick a tape around two points to block. Paint the ring using one solid color or two different colors for each portion. Let it dry. Remove the tape. Cut out leather strips to attach over the unfinished sections. Apply glue and stick it around. Wooden leather bangle is ready.
Uncover More About : The Umpteen Other Ways To Use A Ball Of Wool
Crafts You Can Gift On Valentines Day
Handmade gifts on Valentine's Day are perfect. You will make someone special really happy with gifts thoughtfully made by you. Make a beautiful, hand written, handmade card. Express your love with appropriate words and designs. Be creative and get a few amazing cards ready before the season. Clever gifts can be super special. If you have a coffee lover in your life then present them with a gift card to the coffee shop in a unique way. Keep the gift card in a coffee cup, stuff it with craft paper shreds and love cards.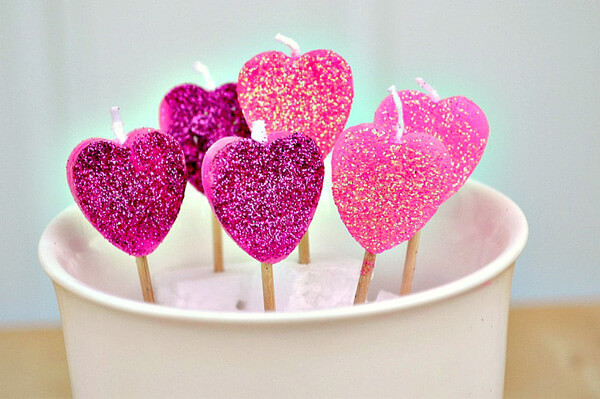 Homemade candles is an excellent idea for the perfect valentines gift. Choosing a beautiful glass can make a candle with essential oils that smells good and sets the mood. Make a heart garland and decorate your room and office space. Give a surprise with these cute pink and white garlands strung together. Not just the house, decorate your window with stained glass window clings. You can make these at home decorate your windows with heart shaped window clings. Don't stop with the perfect gift, present it perfectly as well. Dress the gift box with paper flowers using heart pattern paper.
Chocolates are perfect for valentine's day. Present them in a beautiful candy bag. Make a candy bag with plastic sheets and decorative papers and have a beautiful message on it. Another cute gift you can think off is a handmade pillow. Make a heart shaped pillow for the occasion. An adorable xoxo pillow with soft foam and beautiful fabric is a perfect valentine's gift. Heart shaped love bugs is another cute option. Pick colorful, velvety fabric and threads for beautiful embroidery. Stitch an amazing valentines dress. You can take a couple of old dresses and give it a new style with your sewing skills. Embroider heart shapes and fabric ink to make it look pretty. There are so many such gift ideas one can come up in the quickest possible time. Little bit of creativity, effort and affordable things around home you present novel gifts to your loved one.
Celebrate With Your Own Jack O Lanterns
Celebrating national pumpkin day? Well, carve your own jack of lanterns. It is a fun activity you will enjoy with the whole family. You need to have a good sturdy pumpkin and the right tools. Unless you have plans to do a complex, multidimensional piece, simple tools used in the kitchen will be fine. Knives, chisels, scoops are mostly required. Stores sell pumpkin carving kits for $10 that mostly have two sets of different sized knives, poker spoons with serrated edges.
Use a template to make the carving easier. Not all of us are equipped with skills to create wonderful designs. Templates come to your rescue. There are tons of designed templates available. Choose the right one that matches the size of the pumpkin. Wet the template and place it over the pumpkin. Based on the design, you either place it on top or on the flat surface. The template should wrap around smoothly. Wrap it with a plastic sheet to secure the template in place. Hold the pumpkin between your legs and start piercing with a poke or knife. Work around design. Keep the sheet damp so it stays in place. Complete the design, drill a hole on top and scoop out the pumpkin. Apply petroleum jelly to preserve it. Illuminate your jack O'Lantern with battery operated light.