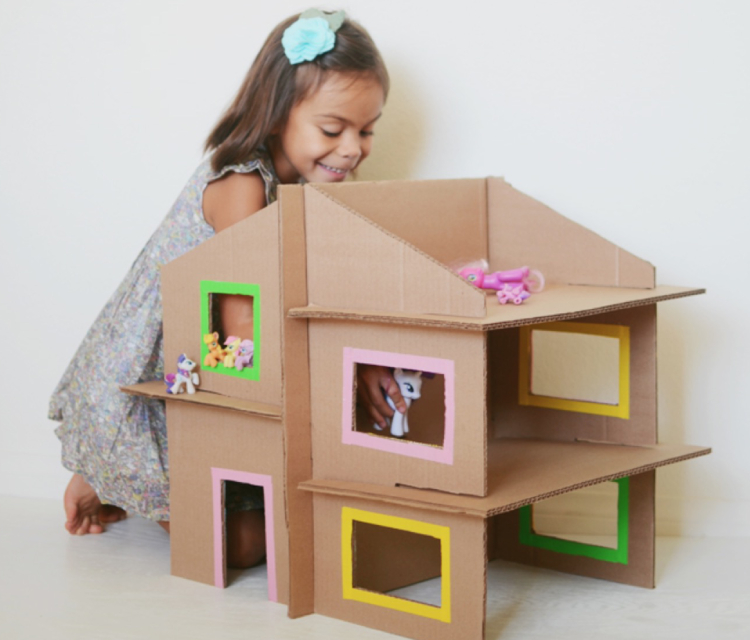 Being Inventive With Cardboard Boxes
Cardboard boxes are used widely in the packaging industry. Whether you buy a pair of shoes or a new kitchen appliance. Most houses will have a pile of cardboard stocked in their store room. Cardboard boxes are mostly broken down and sent to the recycling centers. This is one way of getting rid of cardboard boxes. If you can be a little creative and handy, you can repurpose the cardboard boxes in a whole lot of amazing ways.
Embark on amazing do it yourself projects with your whole family to bring a new life to the mere boxes. You may use the entire box of just parts of the box. This will be an interesting way to keep kids occupied during vacation. With a little effort and creativity, you can come up with creations that would cost you only a fraction of its original value. It can be used throughout houses to organize stuff. Make dog houses, drawer dividers and lovely flowers. Make an amazing cardboard city filled with roads, buildings and cars that kids love to play.
Uncover More About : Match Boxes Reinvented
Craft With Cardboard
Get your family engaged in one of these amazing works to repurpose cardboard boxes. Does your child have a taste in music, especially playing guitar. Then, surprise them with cardboard guitar. Make them with an adorable guitar that looks so real. Cut out a thick cardboard in a guitar. Drill air passages and string them together. Make it small enough so they can hold. They will be amazed when it actually plays. Make drawer dividers out of cardboard to organize things better. It is easy to make and so useful to perfectly arrange stuff in your drawer. Measure and cut out two cardboard that fits the length and width of the drawer such that it is tight enough to stay put.
Is it Christmas time yet? Gift the perfect tiny Christmas trees to family and friends. Make rustic, adorable Christmas trees out of huge cardboard boxes. One large cardboard box can yield several trees. Decorate the trees with colors, stars and balls. Christmas trees are ready for the season. You have a pet and you want a pet house placed inside your house. Don't waste your money on a store bought dog house if you have huge cardboard boxes at home. Cut out cardboard into hot shape and place it indoors. This may not workout if you keep it outdoors as it is a cardboard. You dogs are going to love this little change.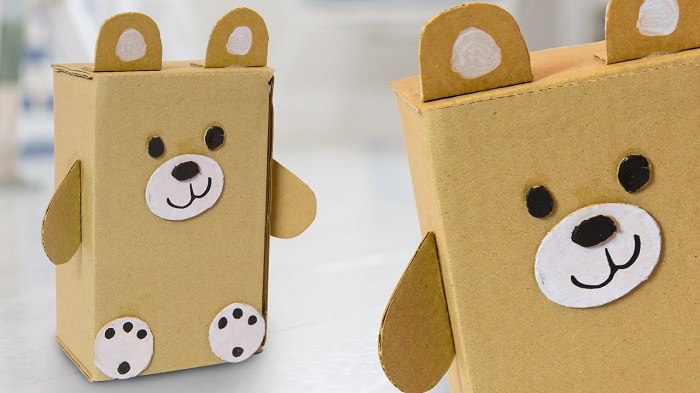 You can stop buying trays and instead turn the cardboard into beautiful trays. Use these trays to hold anything from jewellery to magazines. It is easy to make. Trays of different shapes and sizes can be made from huge cardboard boxes. Cut out the base and the sides and glue it together. Decorate the tray with spray paint, colours, fabric, scrapbook paper, printed sheets or anything else you have in mind.
Bring Out Your Creative Side
Kids love city games. It is not just fun to play with but you can have fun making it with the entire family. Use empty cardboard boxes to make buildings, shops, parks and pavements. Your kids can help you decorate it with trees, colors and place dolls, toy cars and other vehicles to play with it. You can also plan to build a toy house with several big boxes. Cardboard boxes can be made into mirror frames. You need to first plan a pattern and draw it out. Then cut the cardboard, roll it and glue it together to make the outer ring of the mirror. Decorate it with sequins, lace or beads. It is such an asset to your interior decors.
Likewise you can make cardboard photo frames. It is easy to make and you don't have to buy any of these from the store. You can use it to decorate your home or give it as gifts. It is easy to plan a design and carve it out of the cardboard. Make it in a fold design and have a holder. Place it on a table, wall or mantle. Carve out stylish apartment doors to hang it on the door. Make belted storage totes to store fabrics, craft supplies, magazines and more.