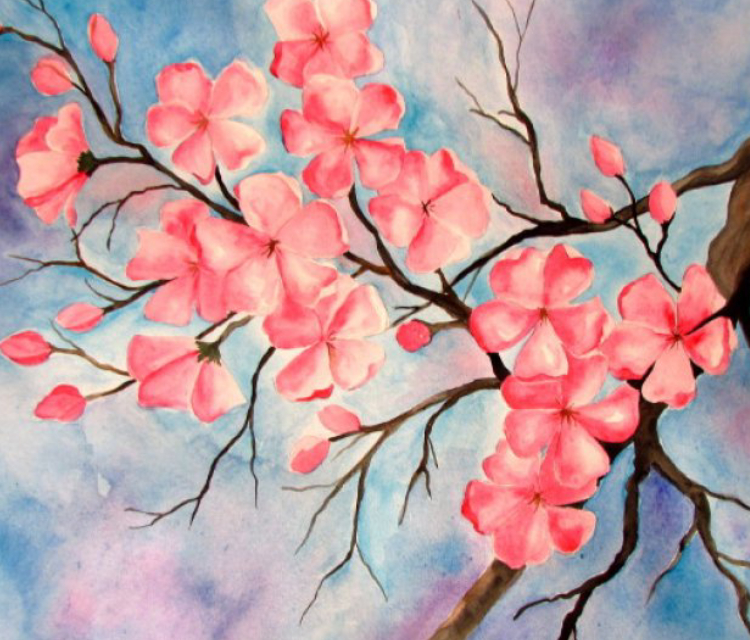 Starting With The Basics Help
A lot of us are art lovers, but few of us can afford masterpieces. But that shouldn't hinder you at all. We say start with the basics. In other words, start painting at home. All you need is paint, brushes and of course paper and you're all set to create art worthy of hanging on a wall.
In this article, we give you painting ideas on paper to get the ball rolling. These ideas are especially helpful for beginners who have no inkling of where to begin. Let them be your inspiration. And if you are afraid that you don't have the skill to paint on paper, then worry not. They are simple designs that anyone can complete in one afternoon sitting!
For those who already are skilled, let these painting ideas on paper be your tutorials and practice. Or better yet, include your friends in the mix. You will not only improve your painting skill but also have loads of fun along the way! So, without further ado here are some painting ideas on paper.
The first painting idea on paper is cherry blossoms in the moonlight. It only sounds complicated and something only a skilled painter can make. In reality, it is easy as long as you have black paper. The paper mimics the midnight. All you have to do is add in the flowers and the moon with a little white paint!
Uncover More About : Simple Tricks On Getting Better At Watercolor Painting
The best beginner painting ideas on paper are those that require the least number of colours. That is why painting lavender sticks on lavender coloured paper is a great idea. You don't have to draw anything on the paper. Just use a green brush stroke to make the stalk and purple dots to create the lavender buds, and you have a painting ready.
If you are unsure of your skill, the trick is to go small. Make a paper painted greeting card first and then move on to bigger designs!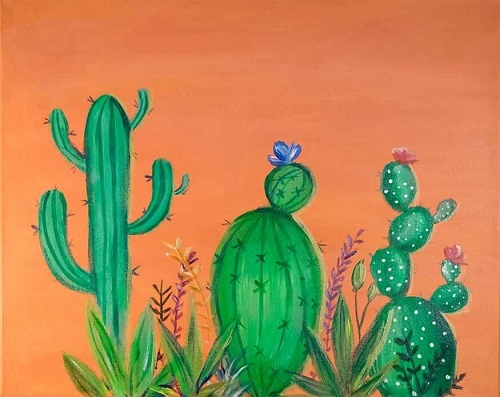 Move On To Bigger Things!
For all those looking for nature painting ideas on paper, this one is for you. A cactus is the easiest succulent you can paint because they don't have much going on. There is a green stalk, two arms and some thorns! With green and white watercolour, you can paint several cacti in no time. Once you are adept at it, you can move on to more complicated trees and flowers.
A simple, striking and beautiful watercolour painting idea on paper is to recreate the skyline of the city you love. This works for beginners because Google is a great help. Simply find an image of your city's skyline on google. Print it and then trace its outline to your paper painting.
Fill in the buildings and structures using watercolours, and you're done! If you want to customise the painting, go ahead. You can easily include variations in it!
A galaxy paper painting is proof positive that even the most amateur person can paint pretty things. Take small paper rectangles, blue colour, light purple colour and black. Paint the bottom half in shades of blue and the upper half in hues of purple. Add in a few mountain outlines with black and then comes the final touch. Tiny dots in white and black to form the stars!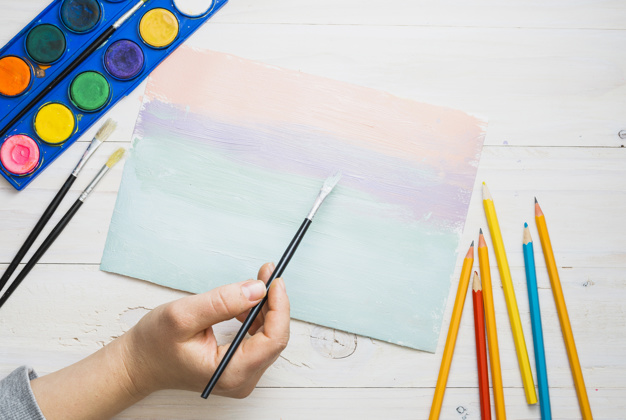 Some Advice On Painting Ideas On Paper
For aspiring beginner artists, there is one trick that helps when hunting for painting ideas on paper. Do not limit your painting to one portion of the paper. If the design has a horizon, don't make it in the middle of the page. Use the whole paper instead. By painting the horizon on one end of the sheet, you add a lot of depth to the painting, which is what makes it amazing and attention-grabbing.
For painting ideas on paper for kids, the advice is to have fun and encourage creativity in the little ones. Make sure that they can explore different techniques, designs and styles. This will inculcate a love for painting, and it will help make the brain more creative!
Instead of sticking to just brushes, try different tools when painting on paper. Cotton balls are a great example. Q-tips are also excellent for paper painting. Forks are another tool you can experiment, just make sure that if kids use them, then they are supervised!
Now go use the painting ideas on paper we've mentioned and have some fun!