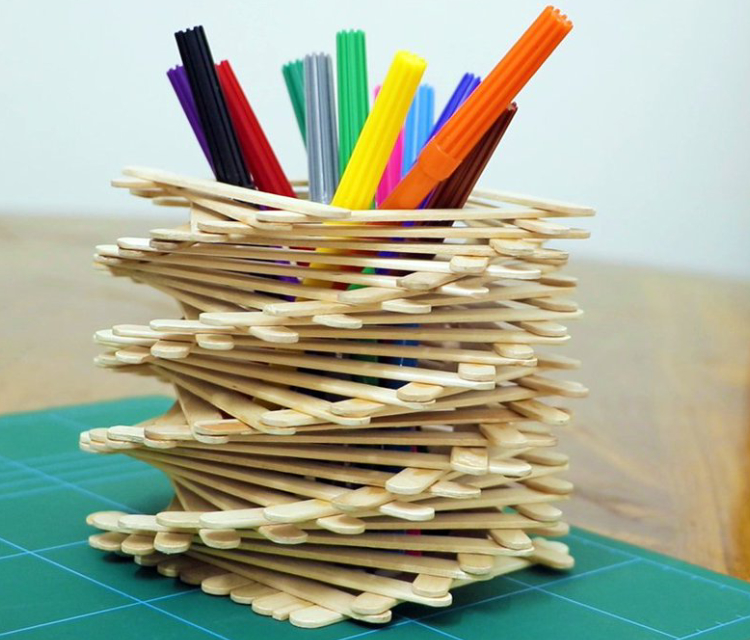 Making an Ice Cream Stick Pencil Holder: Things You Need
The simple stick that holds an ice cream or popsicle is versatile in more ways that you can think of. Made of lightweight wood, this stick is easily available in most stationery shops and outlets. A single packet will contain hundreds of sticks that can be used to make numerous things that are both useful and artistic.
A pencil holder is perhaps the easiest way to make use of the ice cream stick. Not to be underestimated, this handy pencil holder can last for ages and it can also hold any small items. The materials that you will be needing are :
A packet of ice cream sticks
A bottle of wood glue
A thick sheet of paper
A pair of scissors
Embellishments like colourful stones or beads
Oil or acrylic paints
Uncover More About : How To Transform Old Newspapers Into Objects Of Art
5 Steps to Create A Pencil Holder
Step 1 : The first step is to create a sturdy base for the pencil holder. To do this, cut out the thick sheet of paper to the desired length and breadth. But make sure the dimensions are big enough to stack the sticks.
Step 2: Cover the entire paper base with the ice cream sticks. Place them neatly one after the other and paste them firmly with the wood glue. Cut off the round edges of the stick for a more polished and square look.
Step 3: Strengthen the perimeter of the base with a few more sticks. For example, if you've chosen a square holder, glue four more sticks on the four edges. This will form a sturdy base to start with the other layers.
Step 4: Stack up the layers carefully to form the body of the holder. Make sure you are following the shape so that you don't end up with a slanted or crooked holder.
Step 5: Allow the holder to dry completely. You can use embellishments to add an appealing touch to your handy work!

Making Creative Crafts with Ice Cream Sticks
The little ice cream stick is a wonderful material to work with. Used by adults and children alike, it also comes in a hue of colours. Some sticks are pre-cut in various designs to give the resulting product a different dimension of creativity.
The pencil holder is perhaps the most common thing when it comes to making crafts with ice cream sticks. Here are some tips that will help you with the process:
Do not slosh the sticks with too much glue. It will make the sticks soggy and the base can easily fall apart.
Use construction paper for the base, if it is available.
Use glitter powder to add a glittery finishing touch to the holder.
Paint the holder with varnish paint to make it more durable and water-resistant.
Adult supervision is a must if children are involved in this craft.
Get creative! Stack as many sticks as possible to make a vertically tall pencil holder.
Most importantly, just have fun doing this little piece of art!