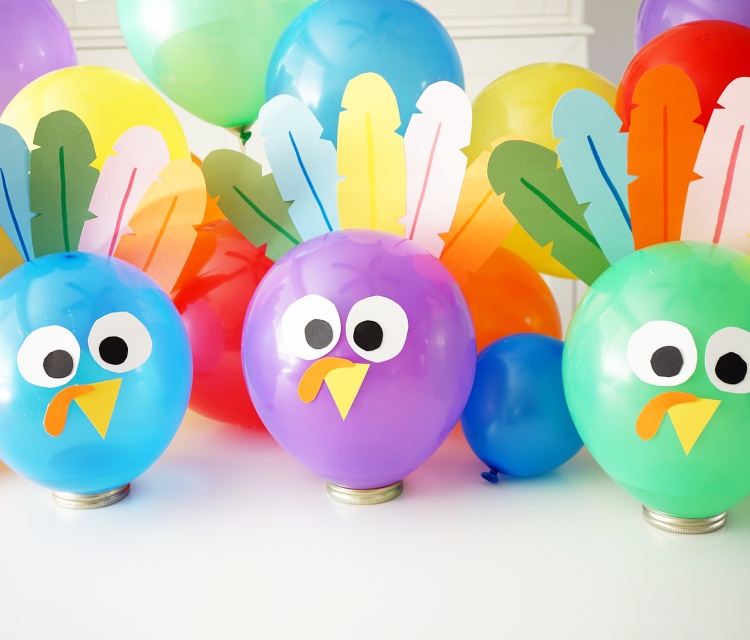 Are you looking for any fresh and unique designs to decorate your party hall? Then you are in the right place. This article takes you through some crazy crafts with balloons. Balloons are one of the most inexpensive and simple items that can be revamped into lavish decorations adding style, colour and flair to any events. Look at some of the creative decoration ideas and execute your favourite idea for your next party.
Top ten trending crafts with balloons
Splash Balloons with excellent colours
This is a new and creative craft with balloons, which adds the glam to the dull and monotonous balloons. Blow up a few balloons with Helium and splatter them with golden or any other colour that goes with the scheme. The unevenly painted balloons would look awesome and will give you the perfect party background. Try spraying fluorescent paints over the balloons if you are planning for a night party.
All that glitters
How about a glittery and sparkly decoration with a balloon for your party? Try this fantastic craft with balloons by following these simple steps. Brush some Decoupage glue or spray some adhesive glue to the bottom of inflated balloons. Sprinkle some colour confetti on to it. Enjoy the beauty of this remarkable craft idea for your birthday party or the nightlong bachelor party.
Uncover More About : Attractive Crafts With Button
Balloon Chandeliers
Create this impressive piece of art with proper planning. If you have a chandelier hanging, surround it with a bunch of air-filled balloons hanging from the ceiling. The result is an adorable balloon chandelier. This craft with balloons requires only a little money and more patience.
Bunch of balloons
Bunch of balloons are a common party idea, which never fades in its charm. These serene clusters of balloons are tied together with cable ties and later linked to a single, central string. The central rope is twisted and twirled to give the resultant structure an excellent shape. Though the craft looks a bit complicated, it is possible to do it yourself. Make sure you try this craft with a balloon for your kid's birthday party.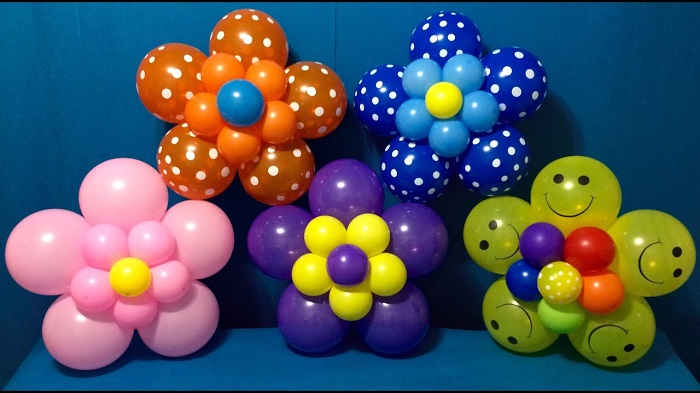 Giant balloon flowers
Try this simple craft with a balloon for your party. A little creativeness and a lot of patience are enough to make this decoration sync with your party theme. For this simple decoration, you may need five blown up pink balloons tied together with a string. Paint or put black tape on the pink balloon petals to give the whole decoration the shape of cherry blossom.
The balloon with tassel
Are you bored of the crafts with balloons; then try the balloon craft that focuses on the strings. Multi-coloured crepe papers are fringe cut with scissors and are used with ropes to form a tassel. Dress up the helium balloons with this beautiful tassel.
Balloons tied to favour bags
A brilliant idea for a young one's birthday party! Tie a balloon to the favour bags and arrange it in a corner. You will not be surprised to see your little ones to wait for the party to end to grab those unusual gifts. After all, who would not want to take a balloon back home?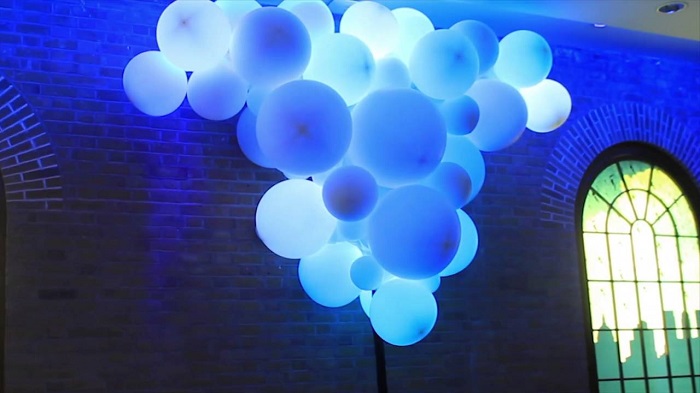 Glowing Balloons
Just like the balloon chandeliers, glowing balloons will also give your night parties that funkiness. For this craft with a balloon put a glow stick in balloons before inflating them. Use this cute idea for your outdoor night party to add that extra fun element.
Mini Pom-Pom Balloons
Pom-Pom balloons are an adorable party balloon decoration idea. Inflate the balloons and glue the cute little pom-poms on the top of the balloons. This cute craft with a balloon will give your little angel and her friends a pleasurable experience.
Hot air balloon basket photo booth
Perfect decoration idea for any marriage party! Arrange for a basket and decorate it with beautiful pastel-shaded Helium balloons. The guests can make use of this beautiful decoration to capture some bewitching photographs.
Decoupage designs onto balloons
Cut some beautiful paper designs and glue it on to the inflated balloons for those beautiful balloon decorations. You can even make use of cupcake wrappers to design the flowery patterns all over your balloons. This craft with balloons is ideal for a garden party.
All the ideas mentioned above are simple and can be done without any help. So, next time, when you are out of money, buy some simple balloons, pick up your favourite idea from above, and display your creativity.