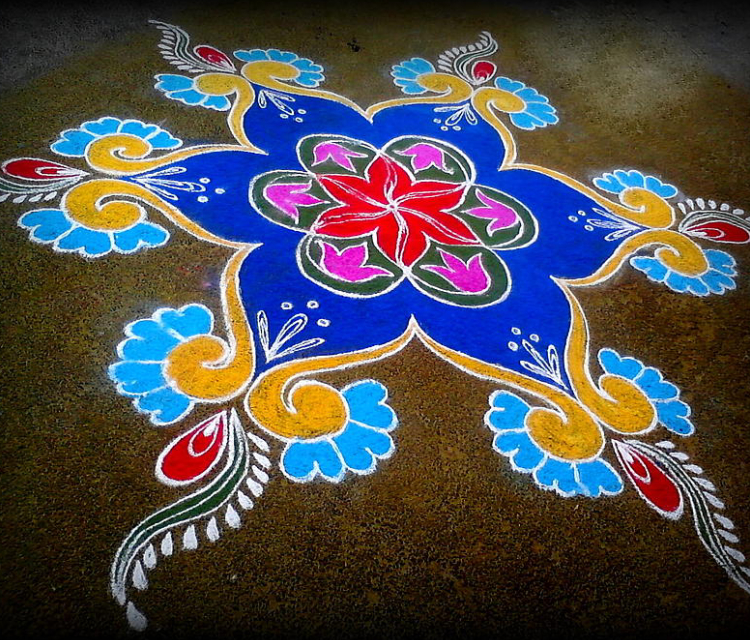 A creative expression of art, the rangoli painting has survived generations to become a significant art form. Rangoli is typically designed outside the houses on auspicious occasions or to welcome guests who according to Indian traditions, are viewed next to god. Rangoli paintings instil positivity to the spectators, and creativity in the creators. Generally, painting rangoli is considered to bring good luck and prosperity. The design reflects folklore, traditions, and practices that are unique to selective areas. Most of them depict geometric shapes, flowers, deity impressions and petal shapes that are crafted with materials like dry or wet powdered rice flours. Traditionally, the colors were added to the base materials by adding vermillion or turmeric or other natural colors. Today, artificial colors are available primarily to satisfy our visual interest.
Tips for painting rangoli perfectly
Rangoli may look complicated, but an understanding of the geometrical patterns and availability of simple tools can help you in mastering the art of painting rangoli. To know more about it, continue reading the following sections.
Prepping stage
The initial stage for painting rangoli involves deciding the designs. The rangoli designs are generally repeated symmetrical patterns. You need not be a great artist to draw a rangoli. Select a small geometric model or floral design if you are a beginner. More advanced artists take inspiration from deities, complex animals, or complicated patterns. The designs of flowers like lotus, animals, peacocks, snakes and fish are primarily used in painting rangoli.
If you are a complete beginner, readymade stencils are available to make your work easier. You can even draw a pattern yourself on a stencil. Sites like Pinterest can offer you multitudes of design options. Select the best one and go on to the next step.
Uncover More About : Top Ten Painting Ideas For Kids
Decide where to draw the rangoli
Traditionally the rangoli is drawn outside your home just beside the door. It signifies the entry of good luck to your home. As a beginner, you can select a place inside or outside the house that should be dry and flat. The size of the rangoli pattern can help you choose the right place to carry out your practice.
For beginners, it is advisable to create your designs on a black paper. The black background can highlight the colors you are going to use in your designs. If possible, glue the black paper to the floor to prevent the paper from flying away. Ensure that the place you have chosen does not block the passage and will not disturb the walking paths.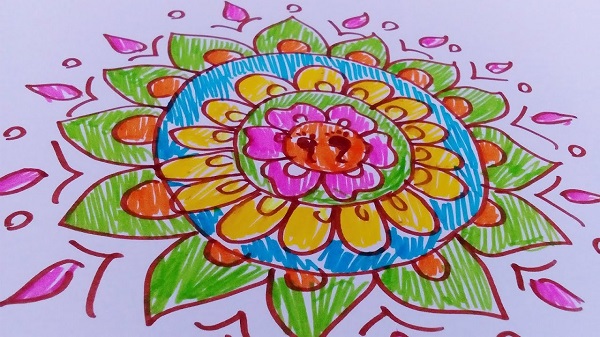 Sketch designs
Use a pencil and eraser to practice drawing your sketch roughly. Continue until you are satisfied with the result. You can even try stencilling designs on to the black paper that you are going to glue onto the floor. Sketch the designs as light as possible to enable erasing in case of any change needed.
If you are painting rangoli directly on to the floor, make use of chalk. Draw a basic outline on the floor with the chalk. The frameworks can be made light in case you decide to change your designs. Experienced artists do not require any tools or sketches to complete their rangoli. Many south Indian households draw the dot and join technique to complete exquisite patterns.
Finalizing the outline
This practice is especially helpful for beginners. If you have lightly traced the shape on to the floor, it is time to thicken the outline with white chalk. Thick white outline for painting rangoli is followed traditionally. This will make the rangoli look more polished and brighter. Experienced rangoli designers can skip this step.
For those who are making use of black paper to create rangoli, apply a little oil to your fingers and follow the chalk outline of your design. Do not douse the paper in the oil. Ensure that only little oil is applied to the paper. This activity is followed to improve the textured material's adhesiveness to the paper.
Textured materials
It is time to fill in the design with textured materials. Though it is customary to use household natural substances like powdered rice, semolina, and sand, painting rangoli with elements like a flower, petals, and artificial colors are followed increasingly.
Make a cone out of the newspaper and squeeze out the colors through the hole at the end. Experienced designers make use of their thumb and forefingers to complete their art.
Mixing of colors in your design
Painting rangoli with a variety of colors can increase the visual appeal of creativity. Try different color combinations to enhance the beauty of the final design.
The final touches
Placing lighted candles or clay pot-lanterns can brighten up your design. Auspicious occasions are generally decorated like this. You can also write down wishes to give your rangoli an extra unique feel.
Make use of these tips to create some eye-catching rangoli designs.